Berlin-Tempelhof today
English
Why does one feel so free at Tempelhof?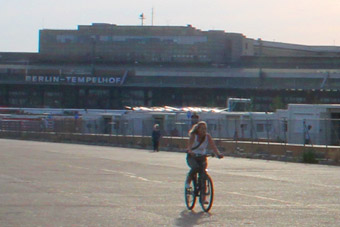 When one talks about the Berlin Airlift, one always mentions Tempelhof. For the Big Bad Wolfs, the former airport is a vast space where freedom prevails. Why? Let's dive into its past a little bit, while focusing mostly on its present. (See the info box at the bottom of the page).
The Americans at Tempelhof
On July 4, 1945, the Americans took back the airport. It became a military base and an important surveillance center where 2.000 Americans were responsible of the West's security. They had to avoid leaving the site, that is why several sports rooms (such as a squash court, a basketball court, a swimming pool, etc.) were made available for them to use on their spare time.
1948/1949 'The Berlin Airlift'
During the blockade 278.000 flights landed and took off from the airport. The Allies' planes, filled with food and coal, were landing every two minutes to provide some supplies to the 2.1 million inhabitants of West Berlin. Tempelhof is a symbol of freedom and cooperation.
The closing down of Tempelhof airport on October 30, 2008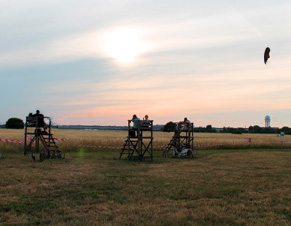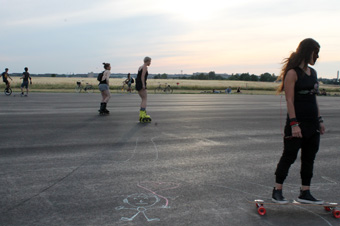 The closing down of Tempelhof was linked to economic and security matters, but also to the project of expanding Schönefeld airport, located in the South-East part of the city. Berlin took back 386 hectares of land, alongside one of the biggest building in the world, and turned it into a public space.
Since 2010 Tempelhof airport has become a gigantic park and therefore offers a fast space dedicated to freedom. The old buildings are used to organize parties, festivals, fairs or major events, and can also be rented by companies.
Tempelhof and the refugees
In 2015, many refugees arrived in Berlin. We heard a lot about that in the news, and very often it was about Tempelhof. The former aircraft hangars have been turned into temporary accommodations for about 1.500 refugees. But as the airport is a listed historical monument, no major alterations could be done. For instance, building kitchens was not allowed in the hangars, so people were not able to cook for themselves. And as more and more people arrived, a situation which was first meant to be temporary became a permanent one. One has to admit that many things have been put together in a little bit of time.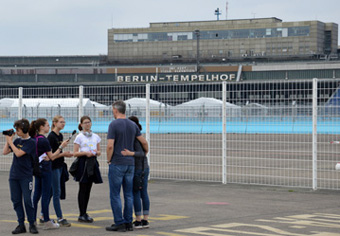 In 2017, the biggest "container village" for refugees in Berlin has been built at the fringe of the former landing strip now called Tempelhofer Feld ( = Tempelhof's field). The containers offer small rooms with a kitchen and a bathroom.
We wanted to know what people thought about that. Most people thought it was a good thing and that it was important to do so, thus respecting the saying according to which 'The most important thing is to have a roof over your head'. We agree with them. People need to be able to take shelter from the rain, to stay warm, and to live in a clean environment.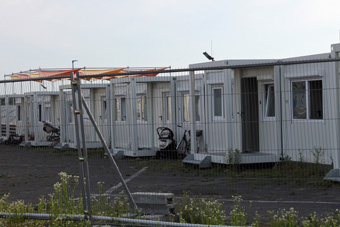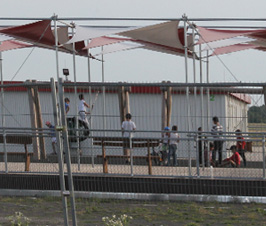 Tempelhof airport, which used to be a key location for the Berliners during the blockage, is now a key location for many refugees. Many volunteers have been able to somehow give back -and are still giving back- what their parents or grandparents had received after the war: some help when you are in need!
Tempelhof is once again a space associated with freedom
There is now a park where the planes used to land, it is called Tempelhofer Feld. It is a gigantic green space in the middle of the city.
When you are there, you feel free. You can play all kinds of sports: ride a bicycle, skateboard or jog around, do some land windsurfing, play handball, football, volleyball, and in winter you can even go cross-country skiing. And that's not all; you can also fly a kite, play miniature golf, have a barbecue, tan, play or listen to some music, and help take care of the community gardens. You can get your bike fixed there, or learn how to fix it yourself. And so on and so forth. And if you don't want to do anything, you're welcome to do so as well.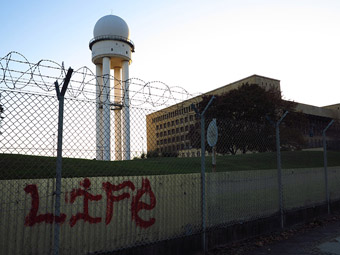 Or one can observe the 'container village' for refugees and ask oneself: how do the families who live behind this fence see us? How do they see Germany? For the refugees, Tempelhof offers some sort of freedom, and some sort of peace because here they are away from the war that is happening in their homeland. Children are peacefully riding their bicycles or their scooters, or playing in the sandbox. But the fence, which is supposed to keep them safe, makes it look like they are living in captivity. Do refugees often go out of their village? Where do they go grocery shopping? How long will they be allowed to stay in these shacks? How is it inside? Are refugees in contact with the visitors who are on the other side of the fence? Do they want to go around town, or are they afraid of doing so? We would like to have some answers to these questions.
In the end, it is important to ask ourselves these kinds of questions, even during our spare time. Thank you Tempelhof.
FACTS AND NUMBERS: Berlin-Tempelhof airport until the end of World War II:


In

1923, Tempelhof airport opened.


In

1935, the national socialists (i.e. the Nazis) refurbished Tempelhof in order to turn it into a large military airport.


Between 1942 and 1945

3.000 forced workers who came from occupied countries were working in the aircraft hangars where they were building both airliners and military aircrafts.


On April 28, 1945

the Red Army takes the airport.
On July 4,

1945

the Americans took back the airport.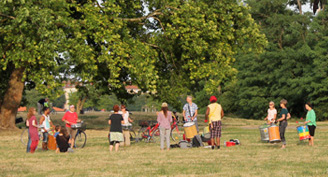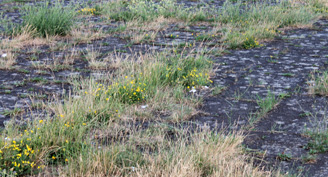 Text: Dagmara, Gaïa, Julienne, Lilian, Natalia and Rosalie
Drawings: Rosalie
Text, drawings and photos © Grand méchant loup | Böser Wolf
Source: Interview from the Big Bad Wolves with Bernd von Kostka
landing on tempelhof (75 Jahre Zentralflughafen - 50 Jahre Luftbrücke) edited: Bezirksamt Tempelhof
Führungen im Flughafengebäude